Space Shuttle Atlantis
was NASA's 4th rated reusable Space Shuttle.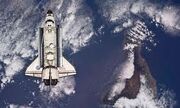 Biography
Edit
Atlantis was first launched on October 3, 1985, on mission STS-51J. Atlantis carried a DOD load on that mission, as well as others. In all, it flew 33 Missions, including the final mission, STS-135. It launched the satelites Galileo to Jupiter, and Magellen to Venus. It pioneered the way with America, and Russia, by docking with MIR on STS-71, followed by 7 other trips to MIR by Atlantis. It finished out her career with STS-135, and delivered the final Shuttle supplies to the ISS. When It landed, it was retired, and placed at KSC, on display for visitors.
It is the only vehicle to not be able to draw power from the ISS.
It is the lightest orbiter. It is 3 pounds lighter than Endeavour, and 300 Pounds lighter than Discovery.
Only orbiter to sustain movie rights to use in film.
Astronauts have stated Atlantis lands harder, than all other shuttles.
Tends to have most problems during launch prep. From landing to stacking.