Rotten Tomatoes is a website launched in 1998 and devoted to film reviews and news and information about films; it is widely known as a film review aggregator. Its name derives from the cliché of audiences throwing rotten tomatoes or vegetables when disapproving a poor stage performance. The company was created by Senh Duong and since January 2010 has been owned by Flixster, which itself was acquired in 2011 by Warner Bros.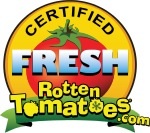 Criticism
Edit
Many people believe Rotten Tomatoes to be an unfair rating system for certain films, specifically children's films and animated films. It has been criticized for focusing on visual elements of these films rather than the storyline. Most of a children's film's success are dependent on the storyline just as much, if not more so than the visual elements which is why this system results in them being underrated. Consequently, certain films most specifically Sci-Fi and Superhero movies are overrated due to being strongly dependent on visual elements rather than actual storyline or acting.
Ad blocker interference detected!
Wikia is a free-to-use site that makes money from advertising. We have a modified experience for viewers using ad blockers

Wikia is not accessible if you've made further modifications. Remove the custom ad blocker rule(s) and the page will load as expected.