Mercury is the first planet from the sun and is the smallest.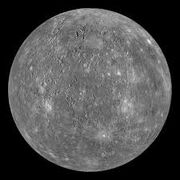 An orbit around the Sun is only 88 Days.
The planet's day is only 59 Earth days.
There is little Atmosphere on the planet.
On the Day side, Mercury is 800˚F. On the Night side, Mercury is -350˚F.
You can celebrate 2 birthdays each day on Mercury.
Mercury has the second longest day.
Mercury is the smallest planet.
Mercury looks like the moon.
The Moon is bigger than Mercury.
| | |
| --- | --- |
| | "I think we forgot something." |
Ad blocker interference detected!
Wikia is a free-to-use site that makes money from advertising. We have a modified experience for viewers using ad blockers

Wikia is not accessible if you've made further modifications. Remove the custom ad blocker rule(s) and the page will load as expected.