Mars is the fourth planet from the sun, and the seventh largest.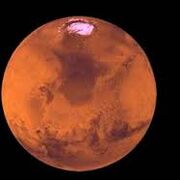 A orbit around the Sun is 687 Earth days.
A day is 25 hours long.
Mars has 2 ice caps.
2 moons orbit Mars.
Mars is most like the Earth.
Mars' moons may be old asteroids.
Mars is red, thanks to iron rich soil.
The Ice is not ice, but Carbon Dioxide or Dry Ice.
Olympus Mons sticks up at over 88,000 feet high. 3X higher than Everest!
Ad blocker interference detected!
Wikia is a free-to-use site that makes money from advertising. We have a modified experience for viewers using ad blockers

Wikia is not accessible if you've made further modifications. Remove the custom ad blocker rule(s) and the page will load as expected.